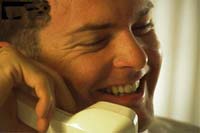 Telephone
Digital telephone & PBX services
Since the summer of 2010, OpenAccess has rolled out digital telephone service for the OpenAccess office, affiliated companies, and several customers.  Overall, service has been better than we expected and we have now opened up our digital telephone service to all existing customers.

Please note the Infrastructure Requirements below and the FAQ section. If you are interested in finding out more, please give us a call at 360-647-0785. 

Infrastructure Requirements
In order to ensure quality of service (both in terms of reliability and also voice quality) our digital telephone services are available only for customers who have their main office connected to us either directly via fiber or via one of our fiber based MetroEthernet products.

If you have employees who telecommute (i.e. work from home or small branch offices), no problem! Generally, quality should not be an issue as long as they have a fast/low-latency internet connection.  However we cannot guarantee call quality and it is difficult for us to troubleshoot any issues should any arrive in these kinds of situations.

See below for more information on phone equipment. If you have your own PBX system or VOIP solution already, and you are interested in migrating to our services, please let us know the specifics of your equipment (brand/model of the base station, handsets, etc., and how many handsets you have) or system.

Frequently Asked Questions (FAQ)
What kind of telephone(s) do I need?

A. Generally there are two options.

1) If you have a one or two person office and already have some telephone handsets that you like, we can supply you with adapters to enable them to use our digital telephone service.

2) For larger offices, although adapters will work, it starts to become problematic when maintenance is necessary (to make requested changes to how your system behaves). Using adapters may also increase clutter, as each handset and fax device requires an adapter box (they are about 4"x4"x1.25" and have a small AC adapter).  These devices and their wires can be an annoyance for some people. In addition, troubleshooting problems when multiple adapters are in use becomes more problematic.  For larger offices we strongly recommend that you upgrade to modern VOIP enabled telephone handsets and/or portables.


How does call forwarding, 'follow me', voicemail and all that work (PBX services)

A. There are two fundamental ways to go about this.

Option (A) - Hosted PBX which we have had good experience with thus far is to simply utilize OpenAccess PBX services.  The advantage of this is that there is no cost in hardware, software, installation and maintenance services.  In addition, there is no need for you to have a 'PBX box' located somewhere at your office along with a UPS system to keep it running if you have a power outage.

Option (B) - Your own PBX.  Although we have not yet (as of May 2013) deployed a PBX on-site at a customer location, we have experience in this for our own telephone systems and of course for the hosted PBX solutions we provide to customers already.  Overall we see few advantages of hosting your own PBX system unless you are a larger firm that has at least one full time IT staff person that can manage the system, and/or need to meet certain compliance or regulatory requirements.

We already have a SIP capable PBX system at our office, will your service work with this?

A. Yes, as long as your PBX accepts open standards for its SIP connectivity, it should work just fine.  OpenAccess has not broadly tested against all the different kinds of equipment out there so we will not be able to help you with the details of configuring your equipment but as long as you have a dedicated staff person or a third party contractor who has expertise with your specific hardware, model and deployment generally speaking it should be fairly easy to get things up and running.
Can I use this system at my home office as well as work?

A. Yes, telecommuting is supported.  Our hosted PBX system is very flexible and depending on your specific needs can be configured to handle your inbound calls in a variety of ways depending on whether you are usually in the main office, home office, or prefer working off your cel phone.
Digital Telephone (aka VOIP) has been around for a long time, why hasn't OpenAccess offered this earlier?

A. There are several reasons that we have delayed offering VOIP service.  The bottom line is that we have not wanted to offer digital telephone service unless it was a quality service.

Early on with VOIP, there were numerous technical 'gotchas' and workarounds.  Many common firewall appliances did not support SIP traffic through them very well and the standards for telephones and the SIP trunking service itself were still somewhat in flux along with incompatible vendor specific extensions.

In late 2007 as the technology had matured, OpenAccess found itself needing to make significant architectural changes and upgrades to its infrastructure and network overall.  This was a large project, which entailed building out small facilities for ourselves, moving around hundreds of circuits, upgrading multitenant commercial buildings (still not completely finished yet) all while keeping existing services up and running smoothly.   We had originally expected this work to be completed by the end of 2009, but it took us until mid-2010 to get everything complete.
Whats New?
Read More...
2010.11.01 Digital telephone & PBX services expanded
Over the summer of 2010 OpenAccess has rolled out digital telephone service for ourselves, affiliated companies and a few customers who were willing to be 'guinea pigs'.  Overall things went better than we expected and we are now opening up our digital telephone service plans to more customers.
Read More...
2010.10.21 IPv6 Transition
OpenAccess will be having a mid range time line for adoption and implementation of IPv6.  As most people know who are reading this, there is a certain 'chicken & egg' problem with IPv6 in as much for any organization to move to IPv6 requires that other organizations have moved to IPv6.
Read More...
2010.07.15 NAS.COM wholesale VPS and WebHosting services
This fall, OpenAccess will be re-purposing the 'nas.com' domain name to provide VPS and WebHosting services, primarily wholesale to web developers. If you have an e-mail address @nas.com, or a personal website located at http://www.nas.com/~yourusername, those services will continue be supported although we will not be accepting new accounts.
Read More...
2010.02.22 Joomla auto install wizard now available.
Due to popular request, we now have a Joomla auto-installer available on our newer cPanel® servers.  This allows customers to quickly and easily install Joomla on their website.  The auto-installer is available under the 'site software' section in the administrative interface of your webhosting account.
Read More...
2009.10.25 OpenAccess begins internal testing for Windows 2008 Server hosting solutions.
OpenAccess is happy to finally be able to announce that we are beginning internal testing of cPanelŽ/Enkompass as a platform for our customers to be able to deliver Windows(c) 2008 Server solutions on.
Read More...
2007.09.26 Changes in paper billing system.
Effective January 1st 2008 we will be doing what most of our competitors have been doing for years and adding a $1.00 surcharge for paper invoices.
Read More...
2007.05.30 New web servers in production.
In May we got two new web servers in production. These machines are based out of our facilities in Seattle and were needed as we have about hit capacity on our existing webhosting infrastructure.
Read More...
2007.03.15 Additional nationwide and global network capacity added.
OpenAccess is glad to announce that we have put into production a new circuit providing us with direct Tier-1 nationwide and global Internet transport.
Read More...
2007.01.17 Verizon DSL speed upgrades complete
Today we did the work to convert all NAS.COM customers over to our faster connection into Verizon. Everybody should be seeing performance increases.
Read More...
More News...